Everyone knows that the relationship and trust among colleagues is important. They work with each other every day and depend on good and fast communication. Many have already worked from the home office but for at least as many it is currently the first time. We have prepared some creative tips and tricks for you on how to maintain this communication and still bring some variety into the daily routine of your employees or colleagues.
1. the desk photo contest
Who has the most beautiful desk? This is a great contest you could organize for your team. This is what my desk currently looks like: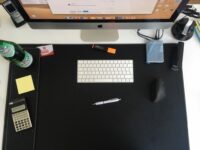 This is not about taking the perfect photo, but much more about the organization of the individual.
Researchers at Princeton University found that clutter makes it hard for people to focus on certain tasks. You can advise your employees or colleagues to organize their workstations, but will that be enough? This simple competition is a great way to inspire them. It also strengthens the bond within the team. All participants can vote for a photo at the end and comment on it if necessary. Maybe there will even be a prize for the winner?
2. save the company from aliens
This is a great icebreaker! Invite your team to a conference via Skype or another communication tool. Tell them to imagine this situation: Aliens have landed on Earth and their goal is to spy on your company. How will the team act to save it from disaster?
Your team will start thinking of creative solutions and jokes. This is a great way for them to show their personalities. They will get to know each other through a relaxed and fun conversation.
3. three truths and one lie
This is a very simple game that is great for new teams. It is the best way to get people to introduce themselves. The instruction "Tell us about yourself" brings an uncomfortable feeling. It is uncomfortable to talk about yourself because the answer can always be perceived as an ego trip. This game eliminates the awkwardness and brings some fun to the process.
The rules are simple: get everyone together in an online meeting and ask each participant to tell three truths and one lie about themselves. The lie should be realistically framed so it's not easy for the others to spot it.
The other participants should guess which statement is the lie. Once each member is done guessing, the truth is revealed. Those who guessed correctly receive points.
4. a picture from your life
This is another great way to get people to share things about themselves without making them nervous. Ask everyone to take a picture of something important in his or her personal life. It can be family. It can be a photo of the last vacation they took. It can be a shot of a daily activity, like running. It may even be the shoes they are currently wearing. This photo should identify one of your interests and passions. Whether it's family, clothes, sports…everything counts!
Ask everyone to share the photo during an online meeting. Each participant will now have the opportunity to talk about their photo.
5. the bucket list challenge
Another cool icebreaker on our list.
During an online meeting, give everyone five minutes to think about a few important things they'd like to do in their lives. While you're waiting for them to complete the lists, you can play music, for example.
Then everyone will share the list. If some members' activities overlap, you can ask them to act together. Let's say two of the team members want to read 50 books in 2020. Now you can encourage them to support each other.
6. Live Remote-Co-Working
Co-working spaces exist for a reason – they help people feel the social responsibility of an office environment, and the smell of "get to work" is in the air. Among other things, working in an office is a constant physical reminder that you should be working and helps you get into the flow of work.
Now that your team is working from a home office, it's not possible for everyone to meet in one place to collaborate. And while working from home has many benefits, it's not always easy to tap into the implicit motivation and social responsibility that comes from working with your team in person.
No need to worry! Remote collaboration doesn't always have to be unproductive. For example, to set up a session for your team, create a Slack channel. The first person online that day can create a video call that everyone can join, with the purpose of the channel and call being to get the work at hand done.
A few more options: Each participant in the call could keep the same schedule using the Pomodoro method – 25 minutes of work followed by a 5-minute break. "Synchronizing" with other team members in this way could help create a sense of belonging and motivation. You could also host a "Coworking Tuesday" where everyone goes online together or make this channel completely voluntary. You can also use the staff get-together to incorporate some fun virtual team building games into the schedule.
7. icebreaker questions for virtual teambuilding
Icebreaker questions are simple prompts that allow you to get to know your colleagues better. For example, you can start an online meeting by having each participant share their name, position, and favorite breakfast food. Icebreakers are an easy and effective way to build relationships between remote teams and improve personal connections between your employees.
A few tips and ideas for great Icebreaker questions and tasks:
If you don't know each other very well, start with simple Icebreaker questions. Some of your team members will be nervous about sharing, so you can start with simple questions like, "What's your dream vacation like?" or "Do you prefer cats or dogs?"
Before anyone shares the answer to your question, announce who the next people will be. This process helps create order, and it's especially important for online meetings.
Get started. As the organizer or leader of a meeting, you can ask the question and then be the first to set an example for others. By getting started, you give participants a little more time to think about their answers, and you can also show what a good answer might be.
Keep it short. We recommend no more than 30 seconds per person.
You still have questions or need individual advice?
Just give us a call. We look forward to creating an unforgettable event together. You will receive answers and individual proposals from us that fit you and your ideas!