The pre-Christmas season is not too far away – and that raises the question: What can a Corona-suitable alternative to the classic Christmas party look like? We offer our customers special online events for the Christmas season. Our goal: to create a shared Christmas adventure for your employees and create an experience that is on par with the usual Christmas party.
The following sections show how this can be achieved.
Christmas online event: socializing despite contact restrictions
Pre-Christmas parties in the company are not just a familiar tradition, they are part of the rhythm of the working year and – if they are well thought out – strengthen the cohesion among employees and the bond with the company. We are specialists in the field of corporate events and have long recognized – quite independently of Corona – a growing interest in online events. Flexible working time models, project work and foreign assignments mean that teams are rarely fully present in the company. Cohesion must be strengthened in a new way. An online event offers the ideal solution: you strengthen or reactivate cohesion within a department or project team. How better to do that than through a fun, shared adventure?
To add a touch of levity to our events, we rely on playful elements. This applies to online and offline events. For the Christmas season – where socializing plays an important role – we've come up with something special.
Here are our offers:
Secret Santa
The cheerful gift fun at Christmas time
You don't have to miss out on this widespread and very popular Christmas custom now. With our fun online variant, we take the tradition to a whole new level. While the main goal of Secret Santa is to bring astonishment and amusement to the recipient's face, this event concept is a lot of fun, even without the actual exchange of gifts.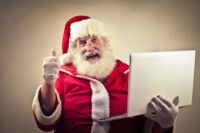 This is how our online Secret Santa works:
Divided into small groups of 5-7 people, each participant goes in search of a potential Secret Santa gift at home. The focus is on the fun and games factor. Afterwards the first pitch takes place within the groups and thus the first important decision. Which Secret Santa gift has the potential to win and can thus be further developed to convince the 'investors'? Here, above all, your creativity and imagination are called for. Can a simple Christmas hat perhaps be attributed more functions than thought? You are asked!
The groups prepare a short presentation to present to the other teams afterwards. An online voting tool is used to determine the winning team!
Our experience with other online events shows: Even from home, fun and community experiences don't fall by the wayside.
Are you already convinced of the online Christmas Secret Santa or would you like more information? Then take a look directly at our website.
Click here to go to the event: Secret Santa
Quizmas Live
Team challenge for virtual Christmas party
The response to our virtual events was so positive that we now also offer virtual Christmas parties, including Quizmas live. All participants are divided into two teams by lot. Then it's time to get started: Recognize Christmas carols, discover your artistic streak in the Monday Painter or buzz with quick reactions in the Christmas quiz – a fun atmosphere is guaranteed.
Best of all, your employees will get to know each other better and even learn some personal fun facts, such as: What was the most embarrassing gift you ever received from your colleagues? – The Challenge combines a sense of community with excitement and humor.
The event lasts about 60-70 minutes, and the individual tasks require different skills so that each participant can play to their strengths. Our game master accompanies the challenge and ensures that even the biggest Christmas grump will crack a smile.
Quizmas live does not require any third-party software to be installed on the company notebook or smartphone. A good internet connection, headphones and a webcam are all that's needed.
Can't wait to be part of our Quizmas live team challenge or would like more information? Then take a look directly at our website.
Click here to go to the event: Quizmas Live
CSI Home-Office: Murder in the vineyard
The case: Vintner Robert Esser is dead – he was probably shot during a walk in his vineyard. Despite intensive investigations, the CID finds many suspects, but no hot lead. Their team of special investigators is asked for help, after all, the chief detective wants to put the case on file as soon as possible. He is about to retire and doesn't want to end his career with an unsolved case. Will you be able to track down the culprit? There is no time to lose!
Investigations from the home office:
For this special case of CSI Home-Office, participants only need a notebook computer, a video conferencing tool and an up-to-date Internet browser. No third-party software needs to be installed. The participants receive access to the database of the investigative authorities and to all required materials via the Internet. Via the conference tool, they can exchange information and consult with each other.
Cooperation and teamwork lead your employees to success in their daily work and also in the CSI home office.
You and your colleagues are the perfect team of investigators? Then don't waste any time and solve the murder of Robert Esser.
Click here to go to the event: CSI Home-Office: The vineyard murder
You want to give your employees or colleagues a little extra pleasure? Then our goodie boxes are just the thing!
As a Christmas special, we will send a gift package to your colleagues on request – from a small present to a good bottle of wine. Talk to us, we will be happy to advise you. By the way: The CSI Home Office gift option already includes an investigation clue…
You still have questions or need individual advice?
Just give us a call. We look forward to creating an unforgettable event together. You will receive answers and individual proposals from us that fit you and your ideas!