Online event for high team performance
At the Races takes participants from the home office to a virtual horse race track. They compete against each other in small groups: Who has the best instinct for the winner? Which tactics will lead to victory?
At the Races: strategic success on the racetrack
All employees meet in the virtual conference room. An experienced moderator welcomes the group and explains the game. Right from the start, he creates a relaxed atmosphere and shared laughs – the perfect basis for successful team building. The participants can ask their questions about the game and the tools used.
Now it's time to get started: The moderator divides the attendees into small groups and sends each team to a breakout room. There they work out individual strategies for the first of six races. Which path will they choose? Will they rely on intensive training, sabotage their rivals or place a bet? – The decision must be made quickly, because time is running out. After four minutes, the breakout rooms are closed and the first race begins. Between races, teams reconvene in the breakout rooms and plan what to do next.
Who will clear the most prize money? The winning team can celebrate in the plenary and enjoy their success.
Conditions of participation
Each participant needs a notebook or PC with a stable Internet connection. In addition, access to the Zoom conference tool is required to actively participate in the game.
Contact us, we will be happy to advise you personally – and plan the perfect event for your team!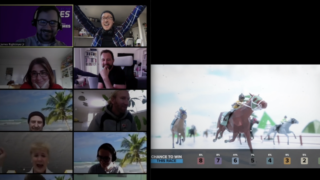 At the Races: Teambuilding and strategy planning with fun factor
An important aspect for the work motivation of employees is contact. Without human interaction, the job quickly becomes monotonous – productivity and commitment decline. With this fast-paced online event, you strengthen team cohesion and at the same time improve the group's ability to successfully develop strategies. Convince yourself!
Blockbuster Online

---

Europe wide, Germany wide, Worldwide

---

And the Oscar goes to... Shoot an award-worthy film trailer with your colleagues from your home office and take part in the virtual...

CSI Home-Office: Case Balotti

---

Europe wide, Germany wide, Worldwide

---

The CSI Chief Inspector is at a loss and asks your team for assistance in a murder case!

Race Around The World

---

Europe wide, Germany wide, Worldwide

---

It took Phileas Fogg 80 days to circumnavigate the world. In this day and age you will have to be a bit quicker than that…

The Infinite Loop Online

---

Europe wide, Germany wide, Worldwide

---

Befreien Sie mit Ihrem Team einen Teenager, der in der virtuellen Welt gefangen ist. Die Zeit läuft und nur mit einer guten Kommunikation...