The Online Entrepreneurial Show For Companies
Your new marketing pitch is being hotly discussed in a video conference. Which new idea has got the potential to trend? What will the new pitch look like? Is it going to be the parking app that ties in with your fitness tracker? Or do you think that is an absolute non-starter? Maybe the smart washbag with automatic online product orders seems like the better idea. Time is scarce, you have to make a decision and there is a presentation to be prepared! Your team needs a good decision making process, if they want to win this. After all, a clever idea is not enough to convince highly skeptical investors! From first draft to the deal: Digital Global Innovation Game positions your participants as candidates in a reality tv program, just like Dragon's Den or Shark Tank, who are competing for investments. Divided into smaller groups of five to seven people, the participants develop their ideas for the most innovative, humorous, creative or charming product that the world has thus far been waiting for, based on entirely random parameters. The first pitch is aimed at their own group. The team then decides which idea they want to develop and pitch to the investors. The teams that manage to score the highest investments will be celebrated during the concluding awards ceremony.
Tickling Your Creativity
The Digital Global Innovation Game not only requires each participant's creativity; the entire team will have to prove their capability at innovating. Once a team has decided on which new idea they want to pitch, their job is to develop that idea. Added value? Demands being met? Potential to be exploited? The teams are brainstorming those issues, along deliberations on chances and entrepreneurial risks. This online event increases skills that help your employees to change their perspective on their everyday work.
Idea + Cooperation + Task Sharing = Creation
No matter how innovative you think your idea is, without an emotive presentation the best product in the world does not stand a chance in front of the investors. You could say it through a video advert, a live presentation or a print campaign: that is entirely up to your team. But you will have to cooperate and communicate smoothly and efficiently in order to comply with the strict timetable.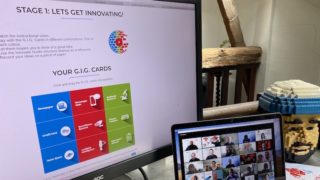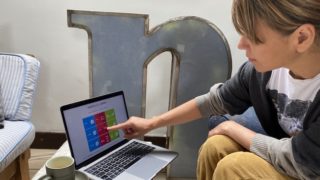 An Entrepreneurial Show As A Teambuilding Event
Key skills and training developed in the Digital Global Innovation Game are: creative expansion, interdivisional cooperation, efficient communication and leadership without managerial responsibilities.
Online Team-Investigation: The Vineyard Murder

---

Europe wide, Germany wide, Worldwide

---

A celebrity vintner is found dead among his vines. Can you shed light on this mystery and find his killers?

Online Team-Investigation: Case Balotti

---

Europe wide, Germany wide, Worldwide

---

The CSI Chief Inspector is at a loss and asks your team for assistance in a murder case!

Diamonds of Amazonia

---

Europe wide, Germany wide, Worldwide

---

Diamonds are forever, or so they say. But are you bold enough to risk everything in a daring jungle raid for the precious gems?

...

Peak Performance Online

---

Europe wide, Germany wide, Worldwide

---

In this online management planning game, you take on the role of expedition leaders and lead your customers to the virtual roof...