Peak Performance – An Expedition To The Roof Of The World
Oxygen supplies in camp 3 are running out and the weather forecast is still looking grim. In what condition are your mountaineers, biding their time in camp 4? You receive a troubling message on the wireless, apparently two expeditions decided for the same route to the summit, yet the plateau only allows for one camp. You brief your sherpas: all available information has to be assessed and quick decisions have to be taken!
A Virtual Mountaineering Expedition
Just like in the original format, Peak Performance Online puts your team in the position of leaders of a mountaineering expedition.Their mission is to take mountaineers to the summit safely and to get them back to base camp safe and sound. All they need for the online version are a web browser and a video conferencing tool.
To succeed on their way to the top they have to acknowledge a number of things to factor in and elements to combine: the basic fitness of your clients, weather, the actual hiking route, oxygen supplies, etc. But these duties have to be delegated within the team, if you don't want all the information to overwhelm your alpine guides. Only together can they make the right decisions."
An Adventure That Consolidates The Team
A complex setting as well as unexpected events on the mountain mercilessly expose what the team is made of, how well they cooperate, how flexible they are in their ways. The thrill of it all will make the participants grow closer together in real life. What you learned in Tibet will resonate across your desk for a long time.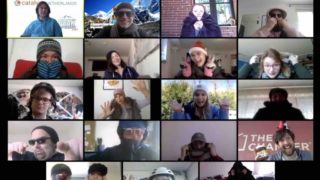 A simulation game with an eye on sustainability
Peak Performance's combination of principles stemming from game-based learning and gamification leads to high motivation among your participants and guarantees a steep learning curve. If desired, the teams will be debriefed afterwards, as to how they can apply their new skills to real-life situations in the workplace.  Further aspects of training and experience in this simulation game features are interdivisional work, leadership without managerial responsibilities and project planning.
Blockbuster Online

---

Europe wide, Germany wide, Worldwide

---

And the Oscar goes to... Shoot an award-worthy film trailer with your colleagues from your home office and take part in the virtual...

CSI Home-Office: Case Balotti

---

Europe wide, Germany wide, Worldwide

---

The CSI Chief Inspector is at a loss and asks your team for assistance in a murder case!

Diamonds of Amazonia

---

Europe wide, Germany wide, Worldwide

---

Diamonds are forever, or so they say. But are you bold enough to risk everything in a daring jungle raid for the precious gems?

...

Race Around The World

---

Europe wide, Germany wide, Worldwide

---

It took Phileas Fogg 80 days to circumnavigate the world. In this day and age you will have to be a bit quicker than that…