Become a Spielgestalter
We are looking for employees who make our customers enthusiastic about the event while operating professionally. The game designers offer an optimal environment for beginners as well as for experienced professionals in the event industry.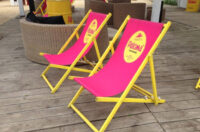 You can choose between different flexible working time models to suit your current situation. After an intensive induction phase, during which you will get to know our innovative products, values and working methods, you will also travel to events and look after clients on site.
We can promise you one thing: You will never get bored with us!
 We are currently looking for :
Working students
Interns
Freelancer
Have we piqued your interest?
Then send your complete application documents to Rosi (wagner@spielgestalter.de).
We look forward to receiving your application.
The play designers stand for professionalism, reliability and friendliness. The focus is always on the customer and their needs. In our office, in the heart of Cologne, you will meet a young, dynamic team with a wealth of experience.
See for yourself and click here for more information: