Boom Time: Energy for your conference
The Blackeyed Peas' beats are thundering through the room and your entire team is grooving along, enthusiastically drumming to the rhythm, turning a quiet conference room into an energetic and creative concert hall. This is Boom Time!
Success Requires Community
Experience how your team grows together during Blockbuster Online. From the trainee to the CEO, everyone will face new challenges. The virtual framework facilitates planning your shoot together and coordinating your schedule.
Music by Colours
Boom Time is a unique energiser that can be utilised as an empowering start to your meetings. The variation of vocal pitches creates a unique collective tune every time. Your team will also be equipped with so-called "boomwhackers", feathery synthetic tubes of various colours and sizes.
Musical Experience through Software
Our software displays the notes of a piece of music as chromatic lines, projected onto a wall or a canvas. Every time you recognise the colour of your boomwhacker, you drum the rhythm displayed by the line. With a little bit of timing and a lot of team work you can thus create a unique experience, both resonant and resounding. Of course we can adjust the tempo as well as the complexity of this event according to your criteria.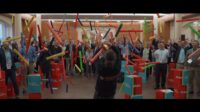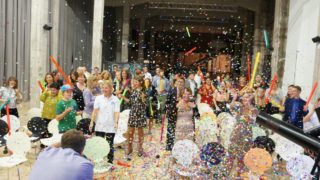 Raw Energy for your Conference
Boom Time is a lively and rewarding way of recharging your team with energy during a meeting or to create a sweeping finale. Regardless of where in your schedule you place Boom Time, your participants will experience themselves as part of something bigger, whilst having a good time. Boom Time does not require any musical training, but it creates a resounding and electrifying group experience.
iChallenge

---

Germany wide

---

Puzzle your way through this team challenge with your team and discover unimagined creativity together!

Knowing Me Knowing You

---

---

An ideal icebreaker when teams are new to each other and the participants do not yet know each other well.

Orchestrate!

---

Europe wide, Germany wide, Worldwide

---

In this unique team building event, the entire staff becomes an orchestra.