A Small Impulse With Great Impact
The ball is racing its course through the labyrinth of pipes, determined to hit the line of dominoes. Everyone is holding their breath while the ball passes through the stretch of the course that their team has planned, designed and constructed. Will cause and effect play out just the way they wanted and will the ball finally trigger the shower of confetti?
Chain of Causation
Meticulous planning, boundless creativity and good communication are the main building blocks of our team event, in which individual teams are designing, planning and building different parts of a giant chain reaction. In this event: balls are racing, falling dominoes tip over larger obstacles, toy cars approach ramps and catapults are triggered. The possibilities are near infinity.
One Company – One Goal
Sustainable economic success requires different divisions cooperating together within well-structured project management. Chain Reaction reproduces this fact and will keep showing your employees that no matter if you are a lone wolf or a team player at the end of the day it's the interplay that matters. Chain Reaction can, if you so wish, feature objects from your company's environs. This leads to an accessible experience among your participants and alleviates the transfer of structures, processes and procedures in your enterprise. You are welcome to make a non-binding inquiry now.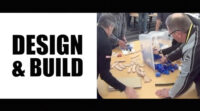 Causal Chains as a Team Event
The grand finale of Chain Reaction highlights the results of meticulous project planning from individual teams and simultaneously the interdivisional teamwork of all groups. Only careful planning will make the gears interlock, leading you towards your shared goal. Further advantages of training and experience in this event are an increase in team spirit and leadership without managerial responsibility.
Big Picture

---

Germany wide

---

Create a lasting memory and visualize goals & company values.

Building Bridges

---

Germany wide

---

You and your team can overcome anything if you link up to build a bridge and find out what is your keystone.

iBuild

---

---

Team communication on a high level!