A fast-paced online team building event
The clock is ticking and before your journey takes you to the next continent, important decisions have to be made. Which challenge should you take on? The train challenge in Montreal, worth 75 points? The automobile challenge in Washington, worth 100 points? Or should you go for a whopping 150 points by taking on the ship challenge in Vancouver? Also, you might want to unlock the bonus city that comes with additional points. Race Around The World is an online team building activity especially developed for virtual teams. This online event improves virtual communication and increases the team spirit, all in an exciting and playful manner.
A virtual expedition!
Each team in Race Around The World is represented by an explorer, leading you across the planet. In this online event the teams are communicating through a video conferencing tool, while the game itself is running on their smartphones or tablets. In order to master all levels of the game and score loads of points the teams have to develop a strategy on how to most efficiently process information. The information about these cities that are worth knowing should be held ready for when they are needed. But beyond that there are creative challenges to be met, photos and videos to be taken via the gaming app. Each stage of your journey is subject to a countdown, in order to keep your team going. The team scoring the most points during this journey will be victorious.
Teamwork As The Key To Online Team Building
At the beginning of the event, your team will be split into smaller virtual teams, with each team member being assigned a role. Now it's up to them to make sense of all the available information, plan their journey across the globe and score points. This team activity is made possible by our award-winning app 'Go Team' and can be played on any smart device from any location. The app is available for free at the App-Store as well as the Google-Play-Store.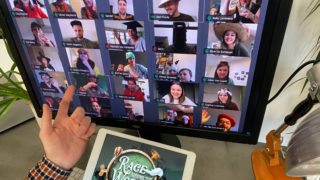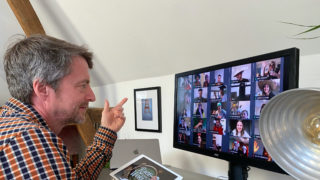 A Virtual Expedition With Your Colleagues
Race Around The World enables remote team members to break out of their roles, to interact with colleagues and to informally bond with their co-workers. The format demands forward thinking and planning from the teams, despite them knowing little about what's ahead, they will have to find that out themselves in the beginning. The various stages of the game encourage team members to check and improve their problem-solving skills.
Diamonds of Amazonia

---

Europe wide, Germany wide, Worldwide

---

Diamonds are forever, or so they say. But are you bold enough to risk everything in a daring jungle raid for the precious gems?

...

Game Show Live

---

Europe wide, Germany wide, Worldwide

---

Become a candidate of the virtual quiz show and follow the score in real time. In the livestream, our charming moderator comments...

CSI Home-Office: The Vineyard Murder

---

Europe wide, Germany wide, Worldwide

---

A celebrity vintner is found dead among his vines. Can you shed light on this mystery and find his killers?