Virtual Entertainment
Game Show Live is an exciting online experience. Your team becomes a group of candidates in a virtual quiz show. Our charming game show hosts will guide you through the event, asking trivia questions from all walks of life: from music to films or art. The questions will simultaneously appear on all participants' smart devices. How many liters of pumpkin soup can you make from the world's largest pumpkin? Is "Wooloomooloo" a town in Australia? Do you recognize the song played backwards? What is advertised in this commercial? The clock is ticking so you cannot waste time thinking! Participants respond to the questions via their smartphone or tablet and our software registers their replies in real time. At the same time you can follow the host and the rest of the team on your big screen. Let's find out who in your team is the master of trivia!
Intuitive Handling and No App Downloads
At the beginning of the event, your team will be provided with a link that takes them to the browser-based gaming surface on their smartphone, tablet or iPad. Login is quick and easy, no need for collecting any data, just choose a name and you're good to go. No need to download any apps, the entire game is browser-based. You can follow the game show host as well as your team via the video conferencing tool of your choice.
Individual Quiz Show For Your Team Building
Whether you need a bespoke "onboarding", an entertainment block between parts of your conference or a team building exercise with that extra jolt of energy: We've got you covered! We'll be happy to tailor the quiz precisely to your needs. If you like, we can add questions specifically about your business or your industry, in order to make complex issues playfully accessible. Don't hesitate to ask us about the possibilities and make a non-binding inquiry now!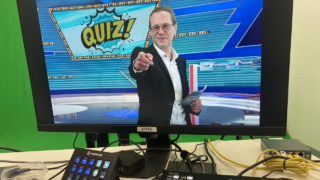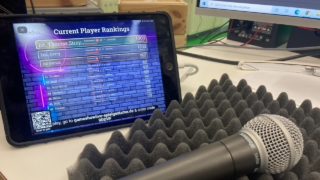 Networked From Out Of Home Office
Social distancing makes it impossible to spontaneously go out with your colleagues. But that's no reason not to spend some quality time with your team, there is an online way of doing just that. We are aware of just how much personal contact is irreplaceable these days, after all, that is where our profession usually comes in. But social interaction doesn't have to stop just because you are in your home office. Our Game Show provides you with those important moments of enthusiastic team experience outside the working environment. Not only from the safety of your home but also giving you a chance to tie in colleagues from remote locations. This way global businesses can easily connect their employees and partners. The relaxed tone of a game show can help bring about that sense of team spirit (for example if you prefer playing in teams) or entice your staff's more competitive side, if you prefer playing as individuals. Both versions can help you overcome distances and barriers by giving your team an entertaining experience outside their working environment whilst boosting that sense of unity and team spirit.
Blockbuster Online

---

Europe wide, Germany wide, Worldwide

---

And the Oscar goes to... Shoot an award-worthy film trailer with your colleagues from your home office and take part in the virtual...

Online Team-Investigation: The Vineyard Murder

---

Europe wide, Germany wide, Worldwide

---

A celebrity vintner is found dead among his vines. Can you shed light on this mystery and find his killers?

Race Around The World

---

Europe wide, Germany wide, Worldwide

---

It took Phileas Fogg 80 days to circumnavigate the world. In this day and age you will have to be a bit quicker than that…

Digital Global Innovation Game

---

Europe wide, Germany wide, Worldwide

---

Develop your best sales pitch for a product the world has been waiting for. Who is harder to convince, investors keenly looking...