An exciting Team Event Played Online
You are hunting for diamonds but time is running out and vital decisions have to be made: The way through Anaconda Jungle may be the shortest but you have no idea what awaits you and your team. Will fuel and provisions be enough to be able to risk a detour? How is the weather developing? Are you prepared to risk your virtual lives for the prospect of diamonds? Or will you play it safe and live to tell the tale, having won fewer gems? Diamonds of Amazonia is an online team event, in which groups of four to five participants are planning and discussing their diamond raids through the jungle. The challenging environment forces your teams' decision-making in the quest for the coveted gems. Which strategy reveals who is the most successful team? Do you have what it takes to break our records?
Strategic Planning and Communication is the Key to Success
Diamonds of Amazonia triggers profound and multi-layered discussions on profit maximisation and the related strategies. This virtual event encourages your managers to leave their comfort zone and think outside the box. Diamonds of Amazonia stimulates the shared creation of goals in order to inspire, challenge and convince.
Gamification
Diamonds of Amazonia is a playful learning experience. It is a web-based simulation game that can be applied across industries and allows you to consider various topics together with your team in an entertaining and engaging manner.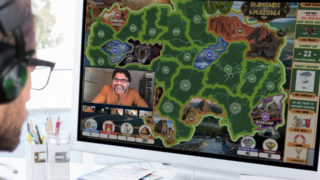 A Virtual Adventure for your Online Team Event
Whether you're all about formulating goals, strategic alignment of your management or informal team building: Diamonds of Amazonia is a virtual team event that comes with a playful and enjoyable approach to motivation.
Blockbuster Online

---

Europe wide, Germany wide, Worldwide

---

And the Oscar goes to... Shoot an award-worthy film trailer with your colleagues from your home office and take part in the virtual...

Digital Global Innovation Game

---

Europe wide, Germany wide, Worldwide

---

Develop your best sales pitch for a product the world has been waiting for. Who is harder to convince, investors keenly looking...

Peak Performance Online

---

Europe wide, Germany wide, Worldwide

---

In this online management planning game, you take on the role of expedition leaders and lead your customers to the virtual roof...

Race Around The World

---

Europe wide, Germany wide, Worldwide

---

It took Phileas Fogg 80 days to circumnavigate the world. In this day and age you will have to be a bit quicker than that…