Raft Building: A Team Building Event
Back in the day it used to be a sheer necessity. Now it's a team experience full of excitement and fun! This adventure puts your teamwork to the test: Can you build an actual, floating raft out of a bunch of given materials? And a seaworthy one, too? The water will be the judge of that! Safety is of course paramount in this event and our seasoned experts are fully qualified for this. All participants will be briefed, trained and equipped with helmets, lifejackets and will be closely monitored and accompanied by our experts, throughout the event. The entire event will be accompanied and supported by a high-end rafting boat.
The Event: Team Spirit, Adventure and Fun
After an introduction to knot craft, the participants are given the building material for their rafts: ropes and tree trunks. The challenge is to build a raft, stable and buoyant enough to carry the participants. Equipped with wetsuits, buoyancy aids and paddles, participants are ready to hit the water. In order to test what they have built, the teams compete in various tasks. This is not just about speed, but also about dexterity and balance. Especially when everyone on board has to stand up.
Snapshots Of The Event
Our coaches are always around the rafts with their waterproof cameras, in order to capture your best moments. These pictures will of course be provided to you after the event. As for locations, we offer this event on the rivers Sieg and Rhein and almost any still body of water. Around cities like Cologne, Bonn or Düsseldorf we already have suitable and tested locations. We'll be happy to give you a non-binding quote on this event, including travels, BBQ and evening entertainment. Feel free to make an inquiry now!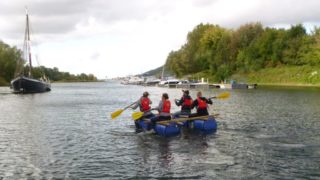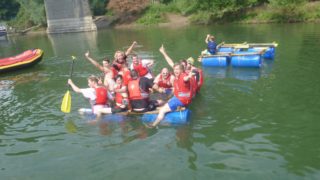 Tying The Team Closer Together
Raft Building is all about having a good time and about motion. This helps to build mutual bonds and increase a sense of trust in your team. The best way to reach that other shore is teamwork, being able to rely on each other. Further aspects of experience in this event are project planning and leadership without managerial responsibilities.
Escape The City

---

Germany wide

---

Escape the city with your team in this exciting city adventure.

Escape The Forest

---

Germany wide

---

Get out of the forest of terror in this unique geocaching team event! Find and solve the tricky puzzle stations.

Rafting

---

Düsseldorf, Köln

---

Here everyone is in the same boat. Book a fun-filled, exciting rafting tour on the Rhine or on the Sieg!

Urban Challenge Köln

---

Köln

---

A playful expedition in the historic old town of the "most beautiful city in Germany", Cologne on the Rhine.