You just passed a rather odd-looking person and now you're asking yourself: Were they part of it? Do they hold a clue for you? You can never really tell in this type of team event. Where does reality end, where does the game begin? The lines are blurred in this fascinating and puzzling adventure with its mysterious hints and riddles.
An Outdoor Escape Game
You have precisely 150 minutes to leave this city, carrying explosive secrets. But it is not going to be easy. Where will you get the passport photograph and the necessary rubber stamps for your counterfeit passport? To be able to escape, the participants receive a briefcase with all the required means to decipher hidden clues, crack codes and finish their mission. The objective is: Escape the City!
Details
Escape the City is an outdoor event inspired by the "Escape Room" format. But it is played in real environments, i.e. your city of choice. Reality and game blend in this event, creating its unique charm. There will be all kinds of unexpected turns and in order to solve the riddles, your teams will have to unlock the mysteries they encounter. Be creative, think outside the box, use your team spirit in order to evade those you suspect are after you and subsequently: Escape the City.
Technical note: Each team will need at least one smart phone with a QR scanner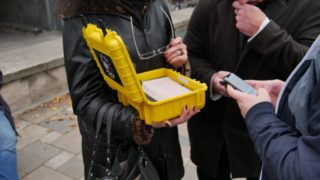 Fun and Movement in an Outdoor Escape Game
Escape the City not only requires your wits: the gaming setup and the local staging lead to a high degree of engagement between your participants, along with the thrill and excitement of trying to make it out of the city. Furthermore, unusual tasks demand unusual solutions. It is up to your participants to leave aside their everyday thought patterns and think outside the box. An increase in effective team communication and a heightened sense of teamwork are among the benefits that come with this game.
Escape The Forest

---

Germany wide

---

Get out of the forest of terror in this unique geocaching team event! Find and solve the tricky puzzle stations.

Tische versenken

---

---

In this fun-filled quiz in the style of a classic TV and game show, you are the participants.

Urban Challenge Dusseldorf

---

Düsseldorf

---

A playful expedition in the old town of the capital of NRW and home to the "longest bar in the world".