The Geocaching Team Event
A mad scientist has developed a serum dangerous enough to eradicate humanity. Your task is nothing less than to find an antidote and save mankind. But most urgently you will have to get out of the forest this maniac has poisoned already. Your teams will be provided with GPS devices in order to find the mysterious tip-offs that might help you develop the antidote. You will only be able to achieve this goal by teamwork and creativity. The clues left in the forest for you demand your best cooperation, communication and of course your wits.
Escape the Forest is a fairly flexible team event that can be realised in almost any park or woodland area.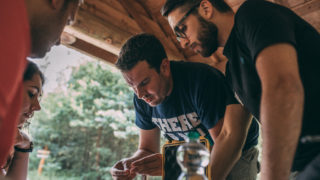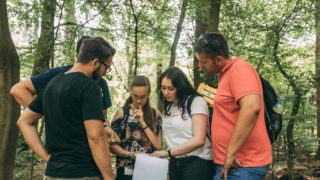 Fun and Movement in an Outdoor Escape Game
Escape the Forest not only requires your wits: It is up to your participants to leave aside their everyday thought patterns and think outside the box. An increase in effective team communication and a heightened sense of teamwork are among the benefits that come with this game.
Escape The City

---

Germany wide

---

Escape the city with your team in this exciting city adventure.

La Famiglia

---

---

An action-packed team challenge, playable wherever you want. With a lot of fun and good humor you fight against the other families...

Urban Challenge Frankfurt

---

Frankfurt

---

A playful expedition in the old town of Frankfurt am Main with lots of fun and interesting facts.