"Camera…..Aaaaaaand Action!"
Do the costumes fit? Has the camera assistant picked the right lenses? Is the lighting set up correctly? Do the colleagues in front of the camera know what to do? Alright, then we're good to go! In Block Buster, you and your team take on the tasks of an entire Hollywood crew. You are shooting a movie trailer. An action-packed comedy. A musical. A western or a superhero flick. There is no limit to what you can do!
Before the coveted Oscars can be awarded, there are many tasks to be mastered. First of all, you and your team will have to come up with a screenplay and a corresponding schedule. The roles will be decided on. Not only acting roles but also all the important roles behind the scenes. Make-up, lights, sound, directing, camera operator all the way down to dolly grips and runner. They all contribute to the final picture. No matter on which side of the camera you excel- Block Buster finds the right objective for everyone on the team.
And of course, there is an awards ceremony. The funniest and most quaint moments from this event will resonate in your team for a long time!
A Film Set As A Backdrop For A Team Building Event
The event begins with a crash course: Your participants will learn the basics of film-making and the technical gear that is being used. Then they will be grouped into smaller units, each team deciding on what genre of film they are going for. The next step is to come up with a screenplay and a detailed schedule, containing all the necessary contributions. Then you get cracking. It's time to set your stage and fire up those lights: showtime! Once all your footage has been shot you and your team can start editing the picture, adding sound and titles. And then it's time to present your work to the other teams, that will be watching all the trailers together in a cinematic setting. Also, they will of course be judging your work. And you theirs.
How About An Awards Ceremony? Or A Making-Of?
Blockbuster is a flexible and bespoke company event. If you like we can stage a proper awards ceremony in the style of the Oscars, including laudatory speeches. We can also offer to produce behind-the-scenes footage of the entire day and produce a "making-of" documentary for you. These will certainly create memorable moments for all your team and a resounding experience. Make a non-binding inquiry now!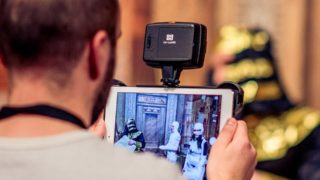 Where There's Community, There Is Success
Experience how you and your team will grow together as a unit in no time. Trainee or CEO, the new and unusual jobs you will be tasked with can be challenging to all of you. Also, whether in front of the camera or behind, each of you will find their perfect role in this production.
Trade Empire

---

Germany wide

---

An exciting business trading simulation about diamonds, alcohol and tobacco. Also playable in pirate style!

Big Picture

---

Germany wide

---

Create a lasting memory and visualize goals & company values.

Beat the Box

---

Europe wide, Germany wide

---

Our BESTSELLER! The mobile teambuilding in the style of Escape the Room. Playable everywhere in the world!

CSI Home-Office: The Vineyard Murder

---

Europe wide, Germany wide, Worldwide

---

A celebrity vintner is found dead among his vines. Can you shed light on this mystery and find his killers?