City Rally Frankfurt – with the iPad through Mainhatten
During our Urban Challenge in Frankfurt, you and your colleagues will experience the economic metropolis from a completely new perspective. The iPad helps you to find the right places in the city center. Here you then have to master tricky questions and tasks.
Discuss in a team which is the most efficient route through Frankfurt to solve as many tasks as possible and collect points. Work out a clever strategy together to leave the other groups behind.
Company outing by GPS
With the help of our team you will learn amazing, funny and exciting facts about the old town of Mainhattan during this event. But you will also discover new things off the beaten tourist-track and gain background knowledge about one of Germany's most beautiful cities. Collect points for correct answers and become an "art expert" or "city guide". If you ever get stuck, Frankfurt's residents will surely be happy to help you. Will you succeed in mastering all the tasks in a category and thus secure the valuable bonus points? Then it's just a matter of solving the creative team tasks, and the puzzle crown for this corporate event is as good as won!
Tactics, teamwork and fun
The Urban Challenge is particularly convincing thanks to our award-winning GPS software. This allows you to compete against other teams in real time and solve the numerous tasks through live interactions – such as taking photos and videos. This event activates the participants and is guaranteed to remain in their memories for a long time. They'll experience a day full of joy, excitement and dynamism, which enormously strengthens the feeling of togetherness. At the end of the rally, you will know many special facts about the metropolis on the Main. Afterwards, the winners will be crowned. On arrangement, we will also gladly arrange the award ceremony in an atmospheric Frankfurt location of your choice.
The Urban Challenge creates a healthy dose of teambuilding and competition. Variety and excitement are guaranteed.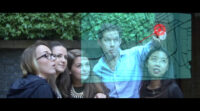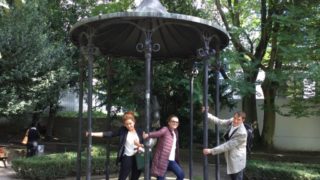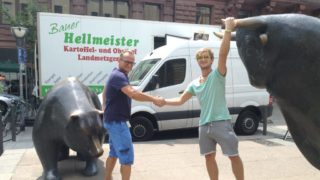 Special: individual iPad city rally in Frankfurt
We will gladly adapt the Urban Challenge to your individual wishes. For example, the route through Frankfurt can be determined. It is also possible to align individual questions or tasks specifically to your company.
Escape The City

---

Germany wide

---

Escape the city with your team in this exciting city adventure.

Escape The Forest

---

Germany wide

---

Get out of the forest of terror in this unique geocaching team event! Find and solve the tricky puzzle stations.

iChallenge

---

Germany wide

---

Puzzle your way through this team challenge with your team and discover unimagined creativity together!

Chain Reaction

---

Germany wide

---

A simple game taken to a spectacular level. Everyone knows dominoes. Chain Reaction takes that game and supercharges it. Tip over...