Haka. What's This Then?
Haka is what the Maori of New Zealand call their imposing war dance. A unified display of strength and skill, that is intimidating even to the most undaunted opponent. The purpose of this dance is to collect yourselves, feel courage through your group, standing tall and finding strength in community.
Haka was popularised by the All-Blacks, New Zealand's national rugby team. They do the Haka before any match, intimidating their opponents with their demonstration of power, will and courage.."
Participation – with smartphone and computer on the festival stage
Haka – How We Do It
Guided by our energised hosts, your team will first be familiarised with the background and heritage of the Haka. Then they begin with warm-up exercises for both body and voice before learning the individual elements step by step. Larger groups can be divided into teams and thereby create a competitive Haka experience. Which team is the loudest? Which is the most passionate? Haka can be celebrated both in- and outdoors, as part of employee day, team building exercises or as an impressive icebreaker at conferences.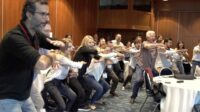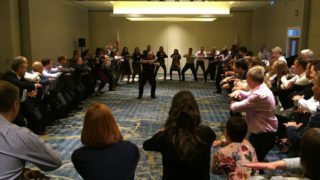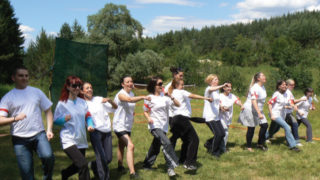 Sustainable team building: something for every taste
The Global Festival Game deliberately focuses on variety so that all participants get their money's worth and can use their knowledge from their preferred music genre. The unfamiliar environment triggers reflection processes on one's own problem-solving abilities, and the various tasks challenge employees on different levels. In this way, new talents become visible.
We will gladly send you the results of the photo challenges. In this way, you create lasting memories that will be the topic of conversation again and again. In addition, the participants get to know each other better during the relaxed, shared time and strengthen the team spirit.
Boom Time

---

Germany wide

---

If a jolt of energy is what you were looking for, you have come to the right place!

Chain Reaction

---

Germany wide

---

A simple game taken to a spectacular level. Everyone knows dominoes. Chain Reaction takes that game and supercharges it. Tip over...

iChallenge

---

Germany wide

---

Puzzle your way through this team challenge with your team and discover unimagined creativity together!

Orchestrate!

---

Europe wide, Germany wide, Worldwide

---

In this unique team building event, the entire staff becomes an orchestra.