The Festive Quiz For A Virtual Company Christmas Party
Quizmas Live is the Christmas version of Game Show Live, in which your colleagues become candidates in a virtual, Chrimbo-themed quiz show. Our charming game show host will be presenting the quiz within a video conference, while the candidates can use their smart devices to answer the questions. The game itself is fast-paced and highly entertaining, varying from "right-or-wrong" questions to time-based questions where your speedy response will score you more points, and sudden death questions. The game concludes with an awards ceremony to highlight the winners and yes, of course, you can dress up to add to the festive mood.
Christmas Game Show
This Christmas quiz show highlights curious bits of Christmas trivia: Which German town does not have a post office dealing with letters to Santa? There isn't much time to ponder, because the clock is mercilessly ticking! The candidate's responses will be instantly counted by our software and the scoreboard will be visible to all. This show brings together playful competition, a festive mood and an all round jolly-good-time!
Intuitive User Experience and No App Download Necessary
To begin the show, all candidates are given a link to our user interface. The browser-based quiz can be played on any kind of smart device, phone, tablet or iPad. Login is quick and easy, you only need to choose a username, that's it. No download necessary and no data is collected. Simultaneously the show will be hosted on a video conferencing tool of your choice, where our game show host and your team can interact throughout the game.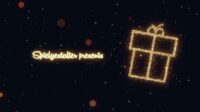 An Interactive Christmas Party Bringing Your Team Together Despite Distance
Christmas Live puts an easy and positive end to your business year and gives back some joy and normality to your team. Particularly in times of social distancing and increased safety distance we crave social interaction. And at Christmas, even more so. Christmas Live has made a difference to many of our clients in the past season and we promise you, pandemic or no pandemic, we will keep on bringing remote colleagues together for one jolly good time at Christmas! Feel free to make a non-binding inquiry now!
Online Team-Investigation: The Vineyard Murder

---

Europe wide, Germany wide, Worldwide

---

A celebrity vintner is found dead among his vines. Can you shed light on this mystery and find his killers?

Online Team-Investigation: Case Balotti

---

Europe wide, Germany wide, Worldwide

---

The CSI Chief Inspector is at a loss and asks your team for assistance in a murder case!

Race Around The Christmas World Online

---

Europe wide, Germany wide, Worldwide

---

In Race Around The Christmas World Online, individuals compete with their colleagues to save Christmas. Teamwork, communication...

Secret Santa

---

Europe wide, Germany wide, Worldwide

---

Secret Santa creates a cheerful mood in the team. Creativity and wit is required to make an unusual junk gag as palatable as possible...