A Christmassy Exploration Of The Globe
Hurry up, Christmas is drawing nearer… It's up to you to save Christmas and make sure it can be celebrated everywhere on the planet. And a fair amount of presents have to be delivered. This is a Christmassy challenge in which your teams are competing with one another. Who can deliver the most virtual presents? To deliver them you must face challenges across each continent. But which ones to choose? The reindeer challenge in Norway gives you 75 points, the cookie challenge in Sweden gives you 100 points and if you had your eye on the mulled wine challenge in Germany, that would give a whopping 150 points. Find the bonus city for additional points! Race Around The Christmas World is an online team building event, designed for groups that have had to work online, being deprived of their usual Christmas party. It's an exciting and versatile way to increase team spirit and efficient communication, whilst getting you into a festive mood and teaching you a few things about international Christmas customs.
A virtual discovery of the world
In Race Around The Christmas World, each team represents a part of the Christmas world. In this team-building event, the participants communicate via video conference while the game is running on tablets or smartphones at the same time. The aim is to master all game levels successfully and with the maximum number of points. To do this, the teams develop a strategy to process information as efficiently as possible. In addition, the teams complete creative tasks. For example, photos or videos are also taken via the game app. The teams keep an eye on the remaining time by means of a countdown, because time is short, the team that finishes all the stages with the highest score wins.
Teamwork is the key to success in online team building
At the beginning of the event your team will be split into smaller virtual teams, each team member being assigned a role. Now it's up to them to make sense of all available information, plan their journey across the globe and score points. This team activity is made possible by our award-winning app 'Go Team' and can be played on any smart device from any location. The app is available for free at the App-Store as well as the Google-Play-Store.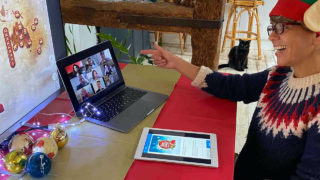 A Virtual Expedition With Your Colleagues
Race Around The World enables remote team members to break out of their roles, to interact with colleagues and to informally bond with their co-workers. The format demands forward thinking and planning from the teams, despite them knowing little about what's ahead, they will have to find that out themselves in the beginning. The various stages of the game encourage team members to check and improve their problem-solving skills.
Blockbuster Online

---

Europe wide, Germany wide, Worldwide

---

And the Oscar goes to... Shoot an award-worthy film trailer with your colleagues from your home office and take part in the virtual...

CSI Home-Office: The Vineyard Murder

---

Europe wide, Germany wide, Worldwide

---

A celebrity vintner is found dead among his vines. Can you shed light on this mystery and find his killers?

CSI Home-Office: Case Balotti

---

Europe wide, Germany wide, Worldwide

---

The CSI Chief Inspector is at a loss and asks your team for assistance in a murder case!

Secret Santa

---

Europe wide, Germany wide, Worldwide

---

Secret Santa creates a cheerful mood in the team. Creativity and wit is required to make an unusual junk gag as palatable as possible...