A fun challenge for a Christmas party with the company.
Together with your team, you re-enact a famous scene from a Christmas story to earn full points for this task. You did this so well that your colleague, who wanted to take a picture of the scenario with the game iPad, couldn't find the shutter release at first because of laughter. But now the points are allotted and you're rushing to the next station. What kind of task will be waiting for you and your team there?
Tactics, teamwork and fun
The X-Mas Rally is particularly convincing thanks to our award-winning GPS software. This allows you to compete against other teams in real time and solve the numerous tasks through live interactions – such as taking photos and videos. This event activates participants and is guaranteed to remain in their memories for a long time. After all, they experience time full of joy, excitement and dynamism, which enormously strengthens the feeling of togetherness. At the end of the rally, you will know many special facts about the metropolis on the Main. Afterwards, the winners will be crowned. On arrangement the award ceremony can be at an atmospheric Frankfurt location of your choice.
The iPad city rally meets exactly the right measure of teambuilding and competition. Variety and excitement are guaranteed.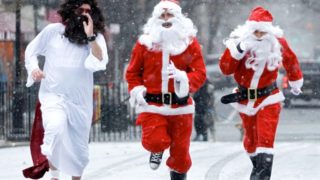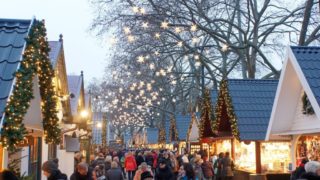 Christmas puzzles and more
With the iPad and special GPS software in hand, small groups of people head out through the city and across the Christmas markets. Always on the lookout for unusual stations as well as fun and exciting challenges that need to be mastered as a team. Creative photo and video tasks, tricky puzzles, crazy riddles and questions have to be solved on the way, while a few Christmas surprises await in the team backpack.
Escape The City

---

Germany wide

---

Escape the city with your team in this exciting city adventure.

Escape The Forest

---

Germany wide

---

Get out of the forest of terror in this unique geocaching team event! Find and solve the tricky puzzle stations.

Team Investigation

---

---

Solve a virtual murder case in real surroundings in the city of your choice during this mystery geocaching.

Urban Challenge Frankfurt

---

Frankfurt

---

A playful expedition in the old town of Frankfurt am Main with lots of fun and interesting facts.